ADDING SOME ROLLERCOASTER HISTORY
A quest to the source of modern tubular steel rollercoasters, which started not in Anaheim but Paris seems a more romantic place.
 Update 14/13/2021: rewritten a part of the Dutch Monorail and updated the status of Ciclone in Brazil
Introduction – how it began:
Hello, my name is Timo. I am a funfair and themepark enthousiast from the Netherlands. I am 45 years old, and live with my wife and two daughters in Tilburg, that is roughly between Amsterdam and Brussels. I am interested in the history and technology behind many funfair rides, themepark attractions and most notably rollercoasters.
At my website (www.kermistilburg.nl) I manage a collection of thousands of historical photos of my local funfair, held each summer, in Tilburg.
It was when I received a contribution to this photo collection, that sparked a quest which lasted for weeks.
I will take you on a little trip, down into the history of the modern tubular steel rollercoaster. With all bells and whistles to it. From modern braking systems, banking, chain lift, upstop and guiding wheels on the outside of a tubular steel track.
All before the opening of what was long thought to be the first modern rollercoaster, the Matterhorn Bobsleds in Disneyland Anaheim.
Of course, it did not do this on my own, many people searched the internet, asked former showmen, contacted companies as Mack and Zamperla, browsed for hours in patent databases and so on. To them, I wish to say a big thank you.
Also, all photos and references can be found in public areas of the world wide web. But none of the photos can be altered or used commercially without the permission of the people who take care for them.
"Where does this come from? How old is it? It cannot be! We would have known..? Why didn't we know?"
Amazement – what am I looking at?
In November of 2020, I received a gift of 1100 photos to add to my funfair website. Many dated back to the 60s and 70s, so I was pleased with them. In 1974, the year I was born, there seemed to be a large rollercoaster on the fair, that I did not see before in the traveling funfairs. It had this weird triangle, monorail-like track, with single trains on it. So I asked myself: "what am I looking at?"
I bet you ask yourself the same question?
I found another photo, taken from a high building nearbye:
This was a big travelling rollercoaster, but not as all I knew: Zamperla, SDC, Schwartzkopf, Mack, Pinfari – none of them produced such design or track.
I did what most people do – asked Google to help. Did searches on monorail coasters, triangle track coasters etc etc – and it seemed that I was not the first to look at this, and won't be the last. Even on RCDB there listings of rollercoasters with this track design. But RCDB does not list a particular type of rollercoaster: the travelling one. And thus we are missing some piece of history.
Not easy to find
I called in the help of the community at www.pretpark.club, a group of themepark enthusiasts from the Netherlands, with ties to many enthusiasts from around the world.
I also reached out to several groups on Facebook and emailed to some personal contacts I have.
At first, the general reply was "this is an old Schwarzkopf" or "this is some old Italian coaster", but that was too easy and also, wrongly assumed.
As further we got back in time, the more difficult it got. We are talking some 70 years ago. So most people who invented, designed and build are passed away and for most of them, their children also passed away already. So with a handful of photographs, this was not an easy find.
I will start at the beginning.
And, although most of it's early beginnings are based on speculation I hope you enjoy the read!
Inspiration? – the early monorails
The earliest patent for a vehicle designed to run on a single rail can be traced to UK patent No 4618 dated 22 November 1821. The inventor was Henry Robinson Palmer, who described it as 'a single line of rail, supported at such height from the ground as to allow the center of gravity of the carriages to be below the upper surface of the rail'. The vehicles straddled the rail, rather like a pair of pannier baskets on a mule. Propulsion was by horse.
In 1869, J Haddon built a monorail in Syria to replace a mule train in military use. This embodied lateral guide rails(!), but was basically a pannier design hauled by a locomotive having double vertical steam boilers.
Around 1879, Joseph Stringfellow devised a similar "one-rail" system for possible use as a "cheap railway" in Australia.
By the end of the 19th Century, the main proponents for the monorail were Charles Lartigue and F. B. Behr. Lartigue constructed Palmer monorails in Algeria to transport esparto grass, to replace mules and camels, although the motive power is recorded as 'animal'. He also demonstrated his ideas in Paris (1884). (text taken from Wikipedia)
Now, this is where is gets more interesting. As Paris was the home of a large funfair, which we know already existed at the time (from 1805, there were mechanical attractions to be found at this fair). Also the Lartigue monorails were also constructed in French colonies (Algeria) and probably were well known in France.
In 1889 Lartigue file a patent for his design, a triangular "A" shape with lateral guiding rails and lateral guiding wheels. ( patent )
The wooden rollercoasters at that time used, and still do, friction wheels inside the track. This monorail system used guiding wheels on the outside. As most modern steel rollercoasters do.
So what connects this monorail to a funfair in Paris? Well, that is the Drouet family. This family of French showmen dates back a long time and Herman Drouet was a visionair and inventor.
Hermann Drouet & co.
It was already in 1923, that Hermann Drouet filed a rollercoaster patent with Emilio Pelucchi consisting of a possible figure 8 layout with multiple elevations:
The text reads:
Improvements made to the construction of overhead railways for funfairs. The present invention relates to improvements made to the construction of overhead railways for fairgrounds, said improvements consisting in arranging the track, which, in horizontal projection, takes the shape of an 8, in such a way that, even on short distances, vehicles can suffer sudden falls. The device is shown, by way of example, in the accompanying drawing.
Did you notice the text "overhead railways" – what is a typical overhead railway? A monorail!
So we believe that this showman was looking for a way to use a monorail type track, to be made into a continuous circuit, that could travel with the funfair. This patented layout is almost a blueprint for all latter Galaxy/Zyclon rollercoasters (SDC, Schwarzkopf, Pinfari & others).
Let me take you to the year of 1956!
In February 1956, Hermann Douet and fellow French showman Robert Baudrier filed a patent where they suggest improvements to a vehicle for use on a track which guides this vehicle through sudden drops, elevations and banked corners!
This document shows the use of a triangle shaped track and a train on this track. It describes the use of guiding wheels(!) and upstop wheels(!) and the track to be used as an amusement device for funfairs:
So, below describes the modern steel rollercoaster. With the use of supports and track sections which are kept together with the use of plugs. As they are built to this day!
1 A fairground roundabout of the type herein defined, in which the rail is of constant section over its whole length, both in its straight and in its curved portions, and wherein to each of the ends of each of the transverse shafts there is articulated the apex of a triangular frame, whose plane is parallel to the central vertical longitudinal plane of the car, each frame carrying at the two ends of its base, a steadying roller and a lateral guiding roller.

2 A roundabout as claimed in claim 1 in which each car further includes a steadying roller and a lateral guiding roller on each side, located substantially at the mid-point of its length and intended to run on the two lower rails, the steadying roller being mounted so as to allow a substantial clearance between it and the rail in order to permit free move ment of the car over upwardly curved parts of the track.

3 A roundabout as claimed in claim 1 or 2, in which the chassis of the car is mounted on a framework integral with the support of prises a hook adapted to engage with a second rod integral with the adjacent section of rail.

6 A roundabout as claimed in claim 4 or in which the adjacent ends of two rail sections rest on a support and are each provided, in the neighbourhood of the plane of their common connection, with a plug adapted to fit between hinge members carried by the said fixed support, a hinge pin being adapted to be inserted through holes in the lug and the hinge members to lock the rail sections to the said fixed support, and being provided with a retaining pin.
On this drawing the wheel assembly is clearly seen. Also note that this triangular track looks as an upside-down Intamin track. But the founders of Intamin were scholars at that time. Anton Schwartzkopf and Werner Stengel did graduate, but they did not design their first rollercoaster in the 1950s.
Premiere at the funfair
Paris, 1956 "Foire Du Trône" – the 'Throne fair' has a new arrival: the R2000 rollercoaster!
The R2000 rollercoaster was a world premiere, a first of its kind and overlooked in many historic rollercoaster books or websites. It had 8 cars, max 4 persons each. A ride capacity of 144 persons per hour (that is one train per 100 seconds). No seatbelts, no restraints! It stood about 18m high.
It travelled in Europe for a long time:
R2000:
1956: debut at Paris – Showman Baudrier
1956 – 1970s: seen on images and video in Parijs, Rouen, Nice
1980 – 2002: in storage ?
2003 – 2005: Pirat'Parc
2006 – 2007: Luna Park
2008 – : maybe in storage, but probably scrapped.
The layout of the R2000 was a double figure 8 with banked turns and featured a 540 degree downward helix as a finale!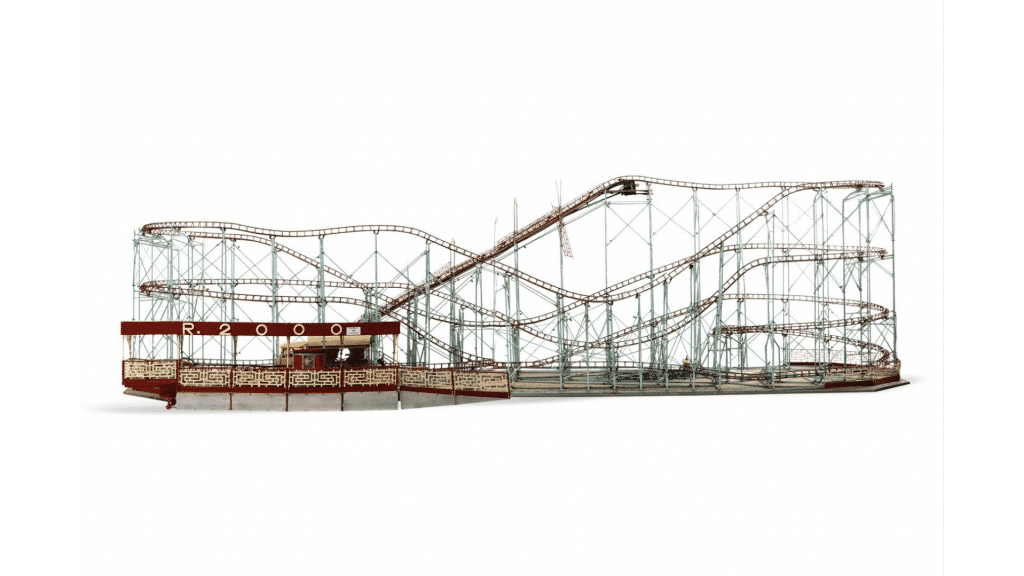 The front of the original trains had the text "R2000" and a logo of "G.A.M" and altough we have speculated very much about the meaning of this, it is most likely a nod to an old car brand that existed in france in de 1920s.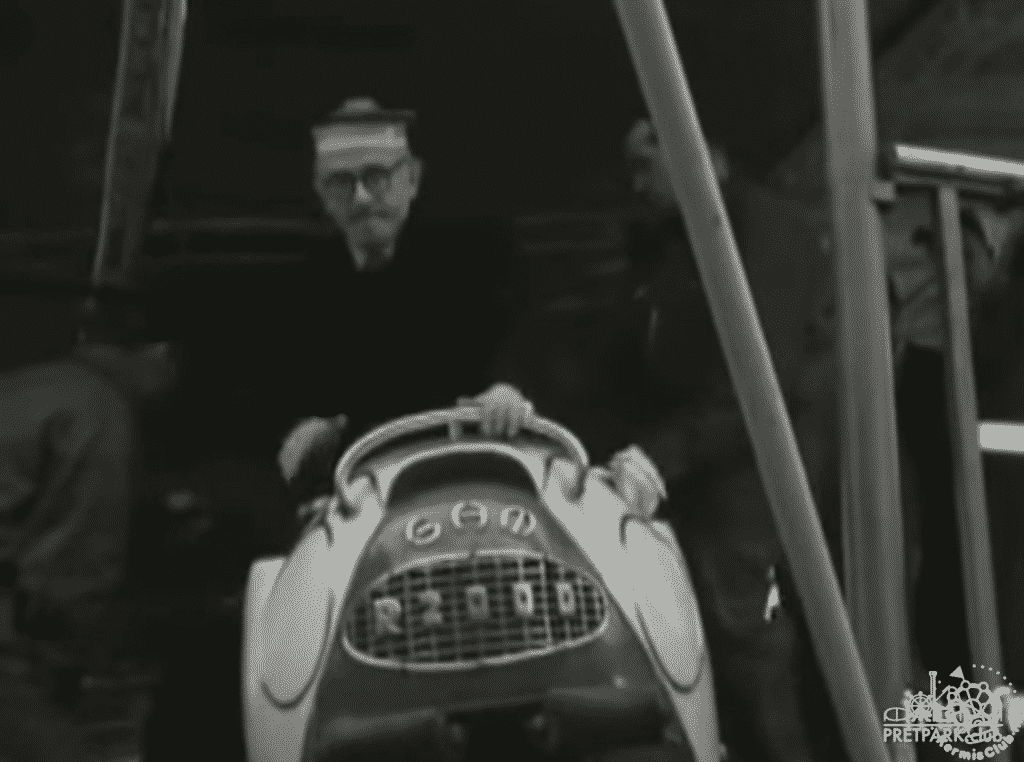 There are more!
The R2000 was not the only model to be build of this type of rollercoaster.
We managed to track down at least two more, one of them being a further development of this type.
For the World Expo in Brussels 1958, another one was built for Swiss showman Tissot. This one only stayed in Europe for two fairs before shipped off to the United states by the "International Export Company", led by mister Mack D. Duce who later formed the SDC company (now Interpark inhereted most of their knowledge).
It's name was "Monorail Éclair" which translates simply to "the Flash monorail".
Texas State Fair
It spends several months in Brussels, then at the Geneva winter fair and was then transported in 1959 to Texas.  It sat on the grounds of the Texas State Fair from 1960 until 1977/1979. Here is a videolink to it: https://youtu.be/oZ0sDxRyK-M
Here you can read a report about the move to Texas: https://texashistory.unt.edu/iiif/ark:/67531/metadc936109/m1/1/full/full/0/default.jpg
Ciclone
A similar track design was used for a third rollercoaster, but there was a big difference: it had 2 triangular tracks side by side. A train in between them. The only gain they probably had was a higher capacity and better safety for the riders.
This is the Ciclone (cyclone) rolllercoaster and it has seen much of the world.
It was first operated by French showman Drouet (yes, the inventor of the R2000) and German shoman Emde.
Ciclone (double track):
1959 – Grenoble summerfair ( Drouet – Emde )
1959 – 1969 travel in Europe
1970 – 1973 Playland Brazil
1973 – 2017 small fairparks in Brazil, still owned by the Playland company.
2018 – sold to travelling "Mega Park", Argentinia
2019 – Seen stripped in Brazil at a recycling company, it got damaged during renovation for Argintina. It wil never ride again.
Note that there is evidence for all of this. There are videos, photos, reports to be found about the Ciclone. You find the link to all this at the end of this document. Look at this Blog about the history of Playcenter Brazil: http://blog.playcenter.com.br/2010/07/hoje-dia-27-de-julho-o-playcenter-esta.html
Wait!? What?!
So, there are always questions – loose ends so to speak. About three of them!
There is a photo taken in the United states at the fairground of Jacksonville Beach (FL, USA), probably in 1972. It is listed on RCDB – but without the photo.
It shows a double triangle track, but it is not the Ciclone, This has a more compact layout. If I compare more photo's of this carnival, the coaster is gone the year after this. So this might be a fourth that we do not know of.
Also, there are photos of a coaster at the south of France. It is not the R2000, as this seem to have more height and an extra helix in it's layout. So here is number 5. How can 5 of these giants have been build and nobody has a clue about their origins?
After looking al the patents, the photos, the reports, newspapers.. there is one mystery photo that keeps us truly puzzling:
The city of Graz, 1947.
This seems to be the only photo of this installation. We do not know if this was a traveling rollercoaster, or a more permanent installation. It looks more permanent to me. No banking and a very simple single twoseater train.
You can see more then enough similarities with the R2000. And remember what it's patent said?
"improvements to a vehicle for use on a track" – it might be that one of the showman has seen this particular installation in action and improved the train, track layout and made it more suitable for transportation? Nobody knows. But it stands that the R2000 was a really advanced piece of rollercoaster technoloy at that time.
The Dutch monorail
So, at page 1 I showed the photo which got me into this quest to begin with. It was the red monorail at my local funfair in 1974.
It has a different layout and different trains, decorations, different all.
So what is the story there?
A Dutch showman and inventor named Jan Bakker, probably saw the Monorail Éclair at the World Expo in Brussels and decided to build his own.
He even might have copied some of the drawings or 'building book' and let a engineering firm do the math on it. We are fairly sure that a local welding company (NLB) constructed this track, as we found an old advet.
It debuted in the city of Groningen, Netherlands at the funfair in 1960. And it change owner somewhere in de 1960's. It travelled the German fairs under a German owner (we think the Loritz family) and returned to a Dutch owner (H.Stuy) in de 70s. Stuy sold the coaster off to probably a German showman by the name of Witte. The last time we see the Monorail in Europe is at "Traumland park" – at the location where now Moviepark Germany resides.
Check out this video of Traumland Park, the Monorail is to be seen from 56s: https://digit.wdr.de/entries/65884
So the Monorail travelled in the Netherlands, Germany, Belgium, perhaps some funfairs in Nothern France too and was eventually sold off to Asia, To pop up at a waterpark in Thailand in the mid 1980's. The waterpark was auctioned off due to bankruptcy and all attractions were destroyed with it.
All that is left…
..are sources, photos, lists etc…
R2000:
1956: debut at Paris – Showman Baudrier
1956 – 1970s: seen on images and video in Parijs, Rouen, Nice
1980 – 2002: in storage ?
2003 – 2005: Pirat'Parc
2006 – 2007: Luna Park
2008 : maybe in storage, but probably scrapped.
Monorail Éclair/ The Flash:
1958 – Brussel (world EXPO '58)
1958 – Geneve winterfair (exploitant Tissot)
1960 – Texas state fair als "the Flash"
1977/1979: probably scrapped
Ciclone (double track):
1959 – Grenoble summerfair ( Drouet – Emde )
1959 – 1969 travel in Europe
1970 – 1973 Playland Brazil
1973 – 2017 small fairparks in Brazil, still owned by the Playland company.
2018 – sold to travelling "Mega Park", Argentina
2019 – Seen stripped in Brazil at a recycling company after it bacame damaged during renovation for Argentina.
Monorail (Bakker, R2000 clone)
1959 – Groningen, Tilburg and somewhere in Germany    (ownership is confirmed in lists of showmen in the city archives and by former showmen who knew Mr Bakker.)
1963 – 1971 travelled under a German showman by the name of Lorentz?
1972 – 1976 Showman H.Stuy travelled with the Monorail in the Netherands and Belgium
1976 – sold to a German Showman, probably unde the name "Witte"
1980s – seen on a video at Traumland Park https://www.youtube.com/watch?v=PN2fraAJEdY
1986 – 1989 Ocean World Baen Saen, Thailand https://youtu.be/B9bC5hipu7I
1990 – The waterpark was auctioned off due to bankruptcy and all attractions were destroyed with it.
Fences were changed arround 1962/1963, new fences were also welded by NLB ( you can see this particular design also on othere rides that were manufacures at NLB during the 60s (twister, ferris wheels).
Cars were changed before Stuy became owner (source: interview with former showman Speelman, who worked with and knew mr. Bakker and mr.Stuy)
Also, the ride was damaged during a storm and some supports were replaced in the 70s
Many thank you's to:
All what is described in this document came from topic: https://forum.pretpark.club/d/1379-wat-is-dit-voor-een-achtbaan-geweest ( Dutch language )
Translated: https://translate.google.com/translate?hl=en&sl=nl&tl=en&u=https%3A%2F%2Fforum.pretpark.club%2Fd%2F1379-wat-is-dit-voor-een-achtbaan-geweest
So, if you are interested in getting rid of the loose ends – contact me:
Mail me: timo@kermistilburg.nl
Message me through : https://www.facebook.com/KermisTilburg
become a member of the www.pretpark.club and add to the topic.